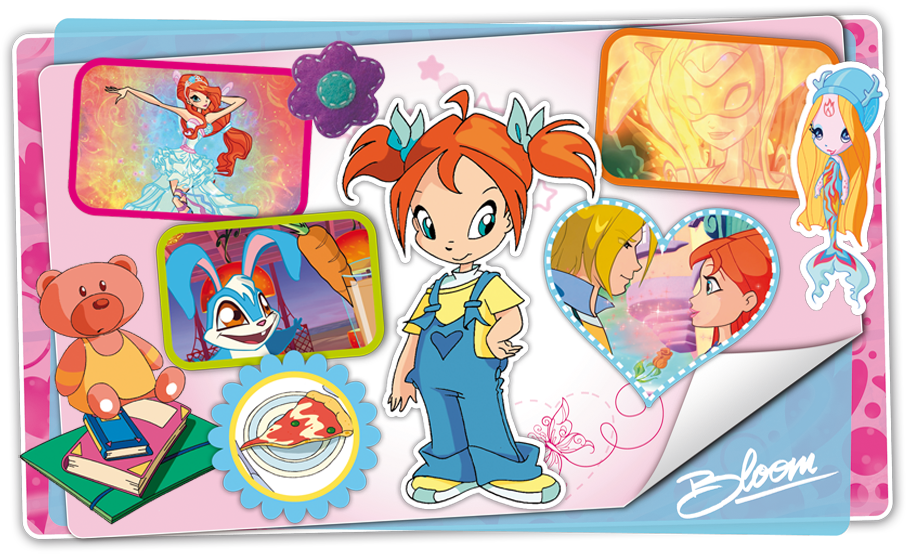 Birthday

December 10th

Astrological sign

Dragon

Favourite colour

Red

Hobby

Reading books about fairy tales and magic!

Ideal boyfriend

Sky!

Best friend

Stella

Favorite movies

Romantic comedies

I love

Cooking cupcakes for my friends!

Favorite music

Pop

Favourite magic

Dragon Flame
Bloom thinks she's an ordinary teenager, but everything changes when she discovers the truth that she's a fairy! Now Bloom's off to the Alfea College for Fairies in the Magic Dimension, where she becomes the leader of the Winx Club. As the Fairy of the Dragon Flame, she is the most powerful fairy. It's an awesome responsibility, but she'll use her unique power to defeat evil, like the Trix trio of witches, and guide her fellow fairies in the fight against evil. When she's not saving the world, Bloom likes to kick back with her friends, read and play with her pet rabbit, Kiko.
Bedroom Special!
Edit
Hey, fairies! Come visit my new room at Alfea and I'll give you some magical advice to make your bedroom even better!
This is my bedroom!
A desk that doubles as a drafting table, so you can draw any time!
Balloons! They keep things up when life threatens to drag you down! Sure, you'll have to buy more every now and then -- unless they're gifts from a certain someone!
Fun-shaped rugs! Heart shaped is my favorite, but stars or flowers work too... you can even change it every season!
Custom wall shelf! With big letters forming your name... fun and practical, for holding books, notebooks and clipboards!
My room is the place I'm most comfortable in, and it matches my personality. In other words, it really is MY room! How about your room?