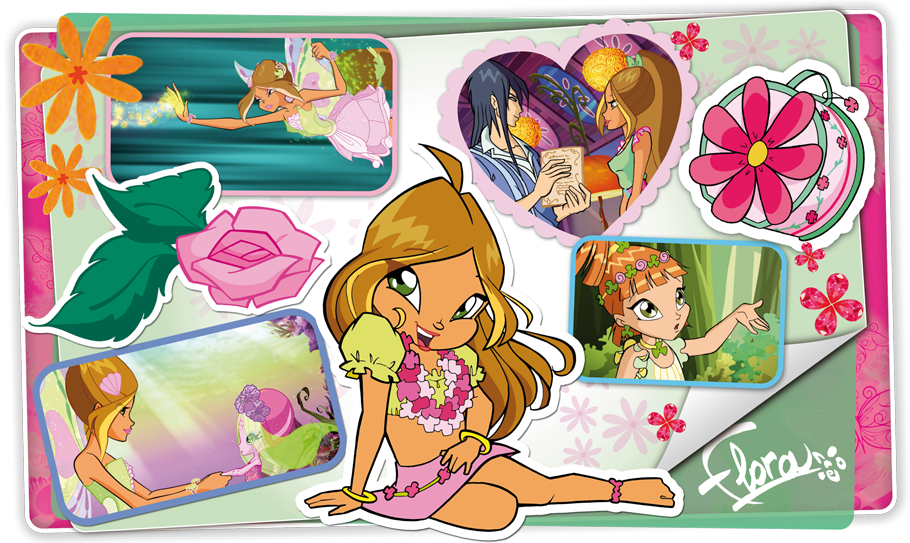 Birthday

March 1st

Astrological sign

Dryad

Favorite colour

Pink

Hobby

Reading and taking pictures of plants and flowers

Ideal boyfriend

Helia, my boyfriend! He is sensitive and poetic

Best friend

Aisha

Favourite movies

Romantic... super-romantic movies!

I love

Giving advice to the Winx and keeping tidying up my room

Favorite music

Classical

Favorite Magic

Giant Vines
==FLORA==
Flora is the Fairy of Nature so it's only natural that she gets her powers and energy from flowers, plants, grass and trees. When the team needs a magic potion whipped up they turn to Flora, who also fills the role of the Winx Club's peacemaker. She's super thoughtful and sweet and her fairy friends can count on her to be there for them!
=A mask for Halloween!=
My dear friends and fairies! Halloween is just around the corner and we are already preparing pumpkins to decorate everywhere! But the pumpkin is not only for fiery decorations and great pies... it is also a beauty aid!
Here's how to prepare a super mask that is anti-acne and stops blackheads!
Ingredients: 4 tablespoons of pumpkin pulp 2 tablespoons of oil
What to do? 1.Boil the pumpkin and mix the pulp (get help from mom!) 2.Add oil and mix well! 3.Put the cream on face and neck 4.Let it be absorbed for 15 minutes 5.Rinse with lukewarm water!
Your beauty will be a treat on Halloween!