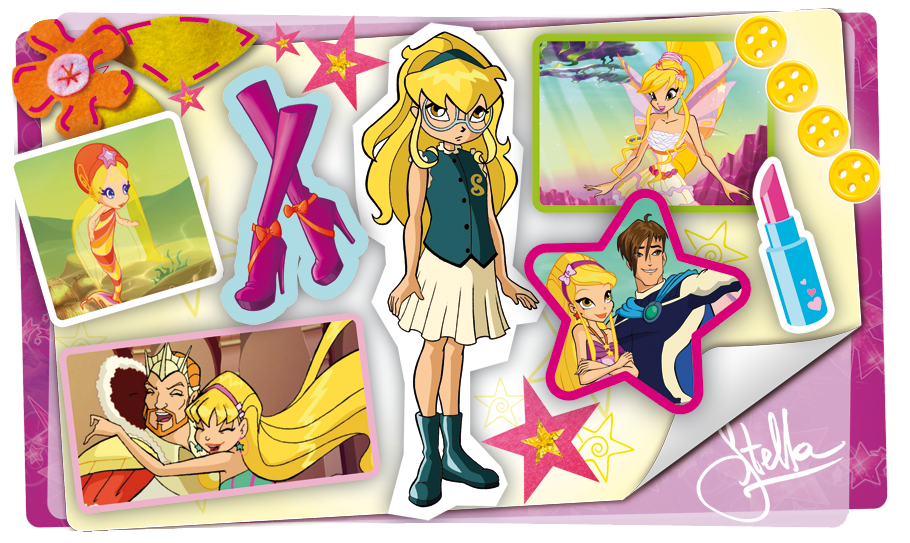 Birthday

August 18th

Astrological sign

Mermaid

Favourite colour

Green

Hobby

Shopping and organizing pijama parties!

Ideal boyfriend

Beautiful and full of muscles... and supersweet like Brandon!

Best friend

Bloom!!!

Favorite movies

Comedies! Nothing is better than a laugh!

I like

Dressing super fashion and giving fashion tips

Favorite music

Pop music

Favorite magic

Moon Ray!
==STELLA==
Stella is the Fairy of the Shining Sun, so it's no surprise that she draws her energy and powers directly from sunlight! With her fierce optimism, and her cheerful outlook, Stella is a ball of sunshine (when she's not making wisecracks)! No wonder she's BFFs with Bloom!
=Romantic Fall Fashion!=
Hello Fairies
Do light dresses and little shorts still have a monopoly over your wardrobe? It's time to change it up for the new season! Tips on how to do just that? Here they are -- the fashion trends for Fall 2012!
Bolero mania! In wool, they're warm and colorful, but also try one out in eco-fur, leather or chenille for glamorous events!
Rhinestones-- A scattering of small rhinestones on the back and sleeves of your jacket will put a little sparkle into your gloomiest day!
Tutù Time! Pink or black with lots of flounces... It will provide a touch of magic and romance to warm your heart!
Skinny Jeans-- this year they must be tucked into warm boots! Or opt for a padded style with elastic on the ankle, for a super casual look!
And now's your chance to tell us your opinion! What "can't miss" items are in your fall wardrobe this year?
Stella: Bedroom Special! (Part 1)
Edit
Hi, my dear fashion fairies! I'm going to show you the secrets to having the most up-to-date bedroom..Just like me!
Multicolor pillows! They have to be crazy comfortable and suuuuuper softso you can lounge on them and chat with your friends.? Plus, there is always a pillow fight at my pyjama parties!?
A glittering? tiara! I always keep it handy… an accessory that makes me magical!
Stellar poufs!? You can get poufs in every shape, size and color and make you room U-NI-QUE! I chose star shapes… can you guess why ;) ?
Animal Luggage!? Big... very big, to contain enough dresses (I need at least 10 at all times!). It's perfect to bring a touch of fashion wherever you travel!
This is only the ground floor, of course…do you want to check out the upstairs? Don't worry Fairies, I'll show you it all in the upcoming weeks! For now, it's your turn…tell me what makes your bedroom special!